 Running for OXPIP -  London Marathon 2021
Local dad, Jon Gibbard ran a total of 76.2 miles for OXPIP - the Chiltern Wonderland 50 and then two weeks later the London Marathon!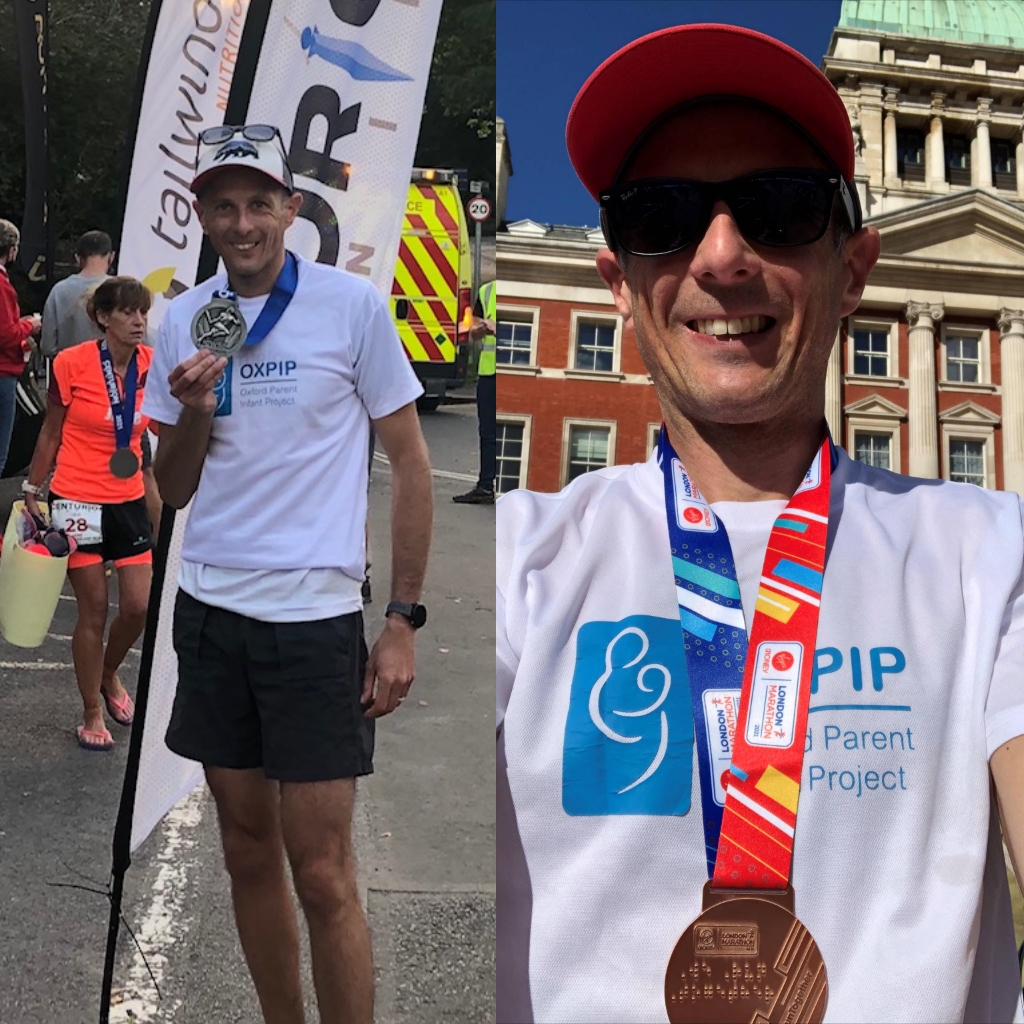 Watch his promo video and find out more about him below:
Jon is the Business Unit Director for Sustainable Infrastructure & Operations at Ricardo Energy & Environment, and an England Athletics Running Coach. After doing 2 legs of the Clipper Round The World Yacht Race in 07-08, Jon wanted to run the marathon as his next adventure and was lucky to get a place in 2009. That was pre being a type 1 diabetic which he developed in 2012, so he wanted to prove to himself that his diabetes wouldn't stop him running the marathon...which he did in 2015. This year he thought he'd take on the challenge of both the Marathon and the Chiltern Wonderland 50 in a fortnight!
We asked him a few questions:
What is it about the work that OXPIP does that resonates with you?
I think the work OXPIP does in those formative years to help families is truly amazing and so important to help the well being of all involved. I have supported Oxford Young People's Mentoring (10 years ago as a mentor) and more recently Oxon Young Carers and so I really support the ethos behind what you are trying to achieve at OXPIP.
What are you most looking forward to about running the London Marathon?
I'm looking forward to running in a real race! Raising lots of money for OXPIP and the atmosphere at London is truly amazing and so full of positive energy – I love it!
What are you least looking forward to about running the London Marathon?
Deciding where to stay the night before to get a good nights sleep!
What is your go to running track to listen to whilst running?
Love a bit of Taylor Swift for interval training, don't judge please! For virtual workshouts at home the killers are great but a real mixture with some Bruce S as well. Basically if it is upbeat and has a good tune I'm in.
In 2015 I wouldn't run without music but these days I love going out and just trying to find some headspace in nature. When you get into that frame of mind you can run miles without music and feel really connected to the environment.
Do you believe running improves mental health?
I definitely run to protect my own mental health and it has been a great way to catch-up with people throughout the pandemic running in pairs and getting out in nature. Whether you've never run before, have done couch to 5k or are just jogging or running to get moving then I think it can be absolutely brilliant to support resilience in these challenging times.
We also talked about motivation for running and Jon shared a few thoughts to help our supporters get out and get moving in the outdoors:
Create a habit, decide on a time of day to go out, I choose first thing, lay your kit out and don't let anything get in your way. Set alarms and reminders if you need to. We've had some amazing sunrises over the last few weeks and this can really add to the motivation and experience
Listen to your body, walk, run, run-walk just get moving to start enjoying the great outdoors, a great play list, being in nature
Find a buddy, even in lockdown you can run with one other person locally, so take some time on your run to connect with a friend and get them to help you create the habit – you'll be helping them too. Don't worry if they are faster or slower, getting some company and 'keeping up' or 'slowing down' is really good
Choose new routes to keep things fresh and interesting
Join a running or athletics club, they are doing loads of activities, challenges and virtual sessions as well to keep things fun and interesting. If you are a member of a running club you can join the oxon virtual road league here. There are online events you can sign up to with medals and tshirts as well if you need the 'bling'
If you like challenges, challenge yourself, a mile every day for a week, find a local hill and see you if you can do 250ft, 500ft or even 1000ft of hill reps, see how far you can go in 10, 20, 30 mins
Most of all: enjoy it! This is you time, a chance to unwind, relax, replenish your 'tank' and hopefully help you cope with the stresses and strains of whatever life is throwing at you